Launch of the LeadAction-Onco Competition
Joint call for projects: IRICoR and Oncopole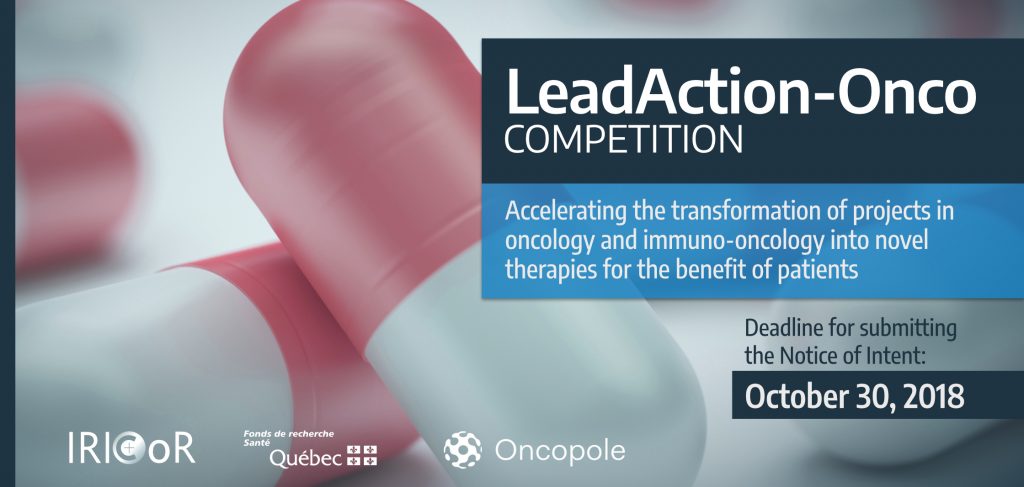 Description of the competition and its promoters 
IRICoR and the Oncopole, in partnership with the FRQS, are launching the new LeadAction-Onco Competition. This joint call for projects is an opportunity for researchers from Quebec and the rest of Canada to accelerate the transformation of their projects in oncology and immuno-oncology into novel therapies for the benefit of patients.
Project eligibility
The researchers are invited to submit research projects that meet the following criteria:
Show great scientific and commercial potential;
Fulfill an unmet and clearly identified medical need;
For developing pharmaceutical compounds or biotherapies;
Between the stages of hit identification and pre-clinical studies.
Competition total budget: $2.4 M
Grant amount per project: maximum of $600,000 for 2 years.
Co-funding is not mandatory.
Important dates
Deadline for submitting the Notice of Intent: October 30, 2018, by 4:30 pm
Deadline for submitting the Complete Application: February 4, 2019, by 4:30 pm
Access the competition guidelines
For more information, please contact the following persons: