Launch of the LeadAction|Breast Cancer du Sein Competition
Joint call for projects: IRICoR and Quebec Breast Cancer Foundation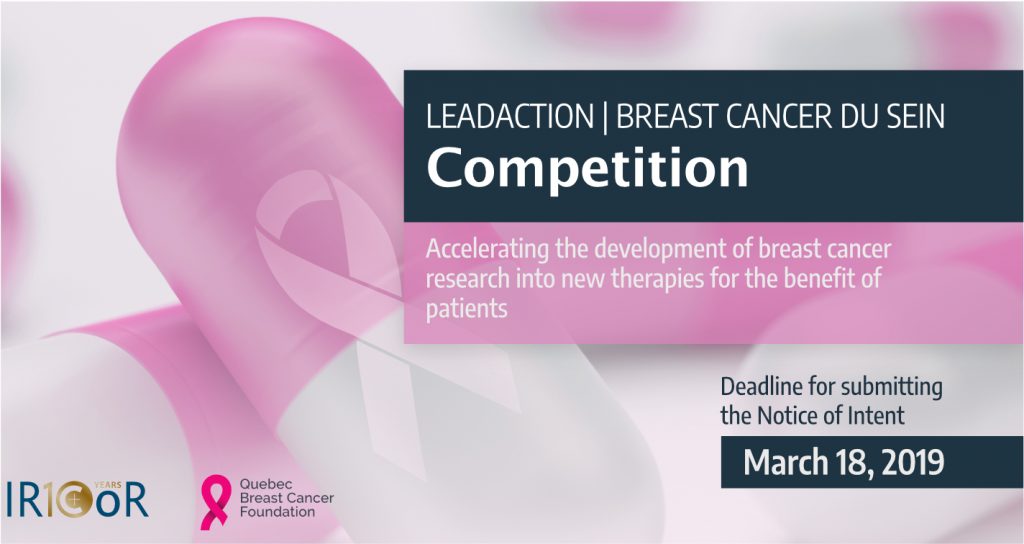 Description of the competition and its promoters 
In the context of its LeadAction Competition Series and in order to foster the emergence of the best discoveries, this year IRICoR, along with the Quebec Breast Cancer Foundation (QBCF), is launching a new LeadAction|Breast Cancer du Sein research competition. The goal of this joint call for projects is to provide funding for innovative breast cancer research projects, in Quebec and across Canada, in order to accelerate the discovery of new treatments that are accessible to patients. .
Project eligibility
Investigators are invited to present projects that meet the following criteria:
Foster major therapeutic advances for the benefit of patients;
Address an unmet and clearly identified clinical need;
Present great scientific and commercial potential aimed at showcasing research and innovation in Quebec and across the rest of Canada;
Aim to develop biopharmaceutical compounds or biotherapies;
Be situated between the hit-to-lead and the pre-clinical stages.
Competition total budget: $3 M
Grant amount per project:
maximum of $750,000 for 3 years for translational research activities, from hit to lead and/or lead optimization.
or
maximum of $ 1.5 M for 3 years for preclinical research activities
Co-funding is not mandatory.
 NOTE: The maximum amount awarded for this competition is $1.5 M per project for 3 years
Important dates
Deadline for submitting the Notice of Intent: March 18, 2019, by 4:30 pm
Deadline for submitting the Complete Application: June 20, 2019, by 4:30 pm
IMPORTANT NOTICE: DOCUMENTS HAVE BEEN UPDATED AS OF FEBRUARY 05, 2019, 3:15 PM.
PREVIOUS DOCUMENTS BECOME OBSOLETE
For more information, please contact :
LeadAction|Breast Cancer du Sein Competition: Audrey Segret, Project Manager – IRICoR.
IRICoR : Audrey Segret, Projects Manager – IRICoR
Québec Breast Cancer Foundation: Marie-Pier Cornellier, Media Relations and Communications Specialist – Québec Breast Cancer Foundation.