A partnership between IRICoR and the Quebec Breast Cancer Foundation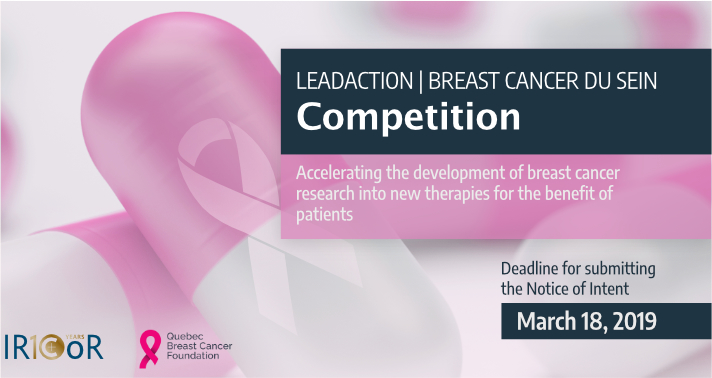 For the past 10 years, IRICoR (Institute for Research in Immunology and Cancer – Commercialization of Research) has targeted the best academia-based projects in order to translate them into innovative therapies that will benefit patients. So far, IRICoR has made close to 80 financings in high-quality projects, established more than 20 strategic partnerships with key players, both locally and internationally, towards initiation of 7 clinical trials in areas of unmet medical needs.
In the context of its LeadAction Competition Series, IRICoR is proud to launch with the Quebec Breast Cancer Foundation (QBCF) this new LeadAction|Breast Cancer du Sein research competition ("Competition").
Maximizing our impact
The goal of the Competition is to provide funding for innovative breast cancer research projects in order to accelerate the discovery of new treatments that are accessible to patients.
Investigators are invited to present projects that meet the following criteria:
Foster major therapeutic advances for the benefit of patients;
Address an unmet and clearly identified clinical need;
Present great scientific and commercial potential aimed at showcasing research and innovation in Quebec and across the rest of Canada;
Aim to develop biopharmaceutical compounds or biotherapies;
Be situated between the hits to leads transition and pre-clinical studies.
The Competition's total budget allocation is $3M ($1.5M from IRICoR and $1.5M from the QBCF).
A very important Competition
1 in 8 Canadian women will be diagnosed with breast cancer and 1 in 31 will die from it. Men aren't spared from it either: they account for 1% of all breast cancers. These figures show that it is paramount to continue to advance research, particularly by setting up initiatives such as this Competition.
"The scientific and medical frontier is becoming thinner and thinner and the Quebec Breast Cancer Foundation is working to narrow the delta between scientific and technological discoveries, and their accessibility for patients", points out Nathalie Tremblay, President and Chief Executive Officer of the QBCF.
"Hoping to have an impact on the life of women throughout the country, we felt that it was crucial to combine our efforts with a key player like the Quebec Breast Cancer Foundation, which aims to subsidize scientific excellence and accelerate therapeutic innovations in breast cancer for the benefit of patients", added Nadine Beauger, Chief Executive Officer of IRICoR.
World Cancer Day
Strong symbol of the fight against cancer, the Competition is officially being launched today as part of World Cancer Day.
In order to ensure the excellence of the subsidized research projects, the applications submitted will be evaluated by a committee of experts.
The projects selected will be announced in the fall of 2019. Stay informed!
For more information, please go to the LeadAction|Breast Cancer du Sein Competition page, here.
To read our press release