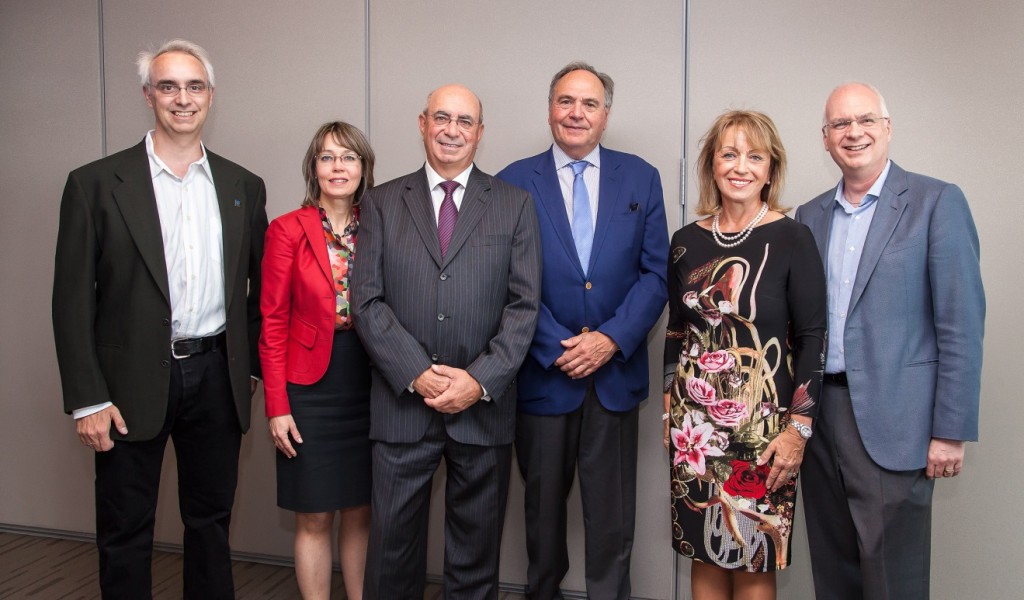 From left to right: Marc Therrien, IRIC Scientific Director; Nathalie Mercier, Élaine et Réal Raymond's niece; Réal Raymond, Corporate Director;
Robert Tessier, IRIC Board Chairman; Élaine Raymond; Michel Bouvier, IRIC Chief Executive Officer
This generous contribution enables IRIC to strengthen still more its recognized involvement in the quest for new solutions designed to defeat cancer. This is an exceptional gesture on the part of private donors, and our institution is infinitely grateful for it.
"Every dollar raised is important for the development and long-term success of our research programs, which are now highly regarded internationally," emphasized IRIC board chairman Robert Tessier. Added Michel Bouvier, chief executive officer of the Institute. "A donation of this magnitude allows us to go further still and helps us take giant steps in finding new drugs for the fight against cancer. Such contributions not only have tangible results, but they constitute a true source of inspiration for our entire team."
"We've seen how far IRIC has come since its beginnings a little more than ten years ago," added Réal Raymond. "Here's an example of what Québec society is capable of achieving when it invests in creativity and in our brightest talents. We're proud to be associated with this human and scientific success story, and above all to be able to contribute to the development of concrete treatments for defeating cancer."
About Élaine and Réal Raymond
Élaine and Réal Raymond are a highly active couple when it comes to social and philanthropic commitment. Former president and CEO of National Bank of Canada, Mr. Raymond enjoyed an outstanding career in the business and finance sectors. Today he sits on the boards of numerous well-known corporations and non-profits, and has served on IRIC's for several years.
About the Institute for Research in Immunology and Cancer
An ultra-modern research hub and training centre located in the heart of the Université de Montreal, the Institute for Research in Immunology and Cancer (IRIC) was created in 2003 to shed light on the mechanisms of cancer and discover new, more effective therapies to counter this disease. IRIC operates according to a model that is unique in Canada. Its innovative approach to research has already led to discoveries that will, over the coming years, have a significant impact on the fight against cancer. For more information: www.iric.ca
Source
Manon Pepin
Director, Communications and Media Relations
Institute for Research in Immunology and Cancer | IRIC
Université de Montréal
(514) 343-7283 | manon.pepin@umontreal.ca