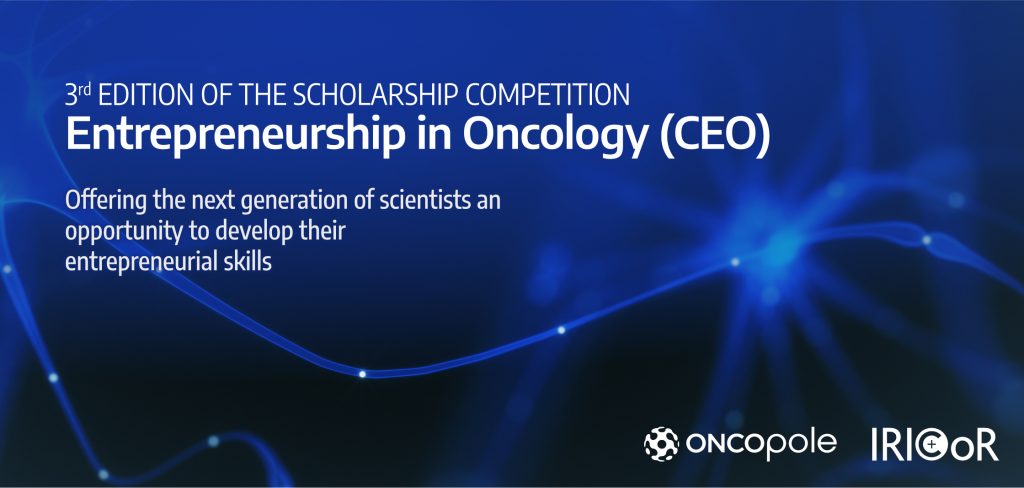 NEW APPLICATION DEADLINE 
November 15th 2019
IRICoR and the Oncopole have joined forces to launch the 3rd edition of Scholarship Competition – Entrepreneurship in Oncology (CEO), offering the next generation of scientists an opportunity to develop their entrepreneurial skills, along with their academic skills.
(10) scholarships will be offered to the recipients, allowing them to take part in the Life Sciences Entrepreneurship Development Program.
WHY TAKE PART IN THE PROGRAM?
This practical and immersive training is the result of a joint effort between Montréal InVivo, Université de Montréal's Faculty of Pharmacy and Concordia University's John Molson Executive Centre, in collaboration with TransMedtech and IRICoR. It will allow you to familiarize yourself with the development stages of an innovative company, from the lab to the market, through current management models that apply to both the research and the commercialization of innovation stages.
APPLICANTS' ELIGIBILITY
PhD candidates
Postdoctoral Fellows
Young Investigators (max 10 years in position)
All candidates must be affiliated with a Canadian teaching or research institution at the moment of the application submission.
SCHOLARSHIP AMOUNT
Full program registration fees, namely $5,890 + taxes.
Furthermore, applicants residing outside the Montreal metropolitan area could be reimbursed for part of their travel and accommodation costs for having participated in the program.
IMPORTANT DATE
Application deadline:  November 15th 2019, at 5:00pm
For any question regarding the scholarship Competition, please contact Ferima Sanogo, Project Manager, IRICoR.