In order to crystallize the commercialization potential of its project portfolio, IRICoR devises exit strategies for each project to maximize its return on investment.
IRICoR has the flexibility to conclude license contracts and partnerships at different stages based on risk assessment and a balance between short and longer-term revenue potential. IRICoR secures its revenue stream from R&D funding from strategic partners, upfront and milestone payments, as well as royalty payments. These revenues are fed back into the Centre to ensure its sustainability by reinvestment of the funds into new innovative discovery projects.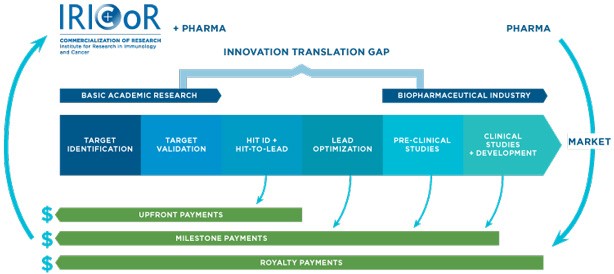 IRICoR seeks partnerships for discovery projects at various pre-IND stages although its preference is to partner towards the end of lead optimization/early pre-clinical studies, one of the early value-creating inflexion points, where strong medicinal chemistry and biology expertise come into play and where IRICoR can potentially get optimal value for its portfolio projects through strategic partnerships or spin-off company creation.